Free Coin Tricks
Before you do anything else, sign up to the Free Coin Magic Tricks Newsletter.
It's FREE … obviously.
As soon as you confirm your email address, you'll get a gift of a valuable Coin Magic ebook. It's called the No-Vanish Coin Vanish. It's absolutely amazing … and I once had a student ask me for months how the trick was done, before I revealed the secret.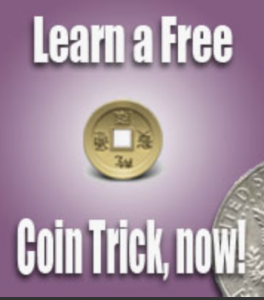 If you don't know it, you'll love this one. It's so absolutely baffling!
Then a few days after that download, you'll get another download … and a few (3) days after that … yet another.
This newsletter isn't only about FREE magic ebook downloads. I'll also point you to magic blog posts, articles, an occasional magic animated cartoon, a special offer for something coin-magic-related (but only when I find good offers for you), and even some links to some important magic sites that I think you should know about.
Simply sign up for the Newsletter (Now, while it's still open):